Book with us
Best Rate Guarantee when you Book Direct
Add One of our Specials
Valet and Play
Save on Rooms & Your Valet is Included
Everything Under The Sun Package
Receive Up to $150 Daily Credit
Bed & Breakfast Package
25% Off + Breakfast
Florida Resident Rate
Complimentary Valet
Pre-Pay & Save
Looking for a deal at the beach?
View More Offers >
Thank you for
Subscribing!
Join Our Mailing List
Staff Picks
At Trump International Beach Resort, we keep our finger on the pulse of Miami's hottest happenings, attractions and must-have experiences. Check here to explore our top insider picks.
A winner has been selected
Congratulations to Grand Prize Winner Veronica Callaghan from Glastonbury CT
We are proud to announce that Veronica Callaghan from Glastonbury, CT has been selected as the Grand Prize Winner for this year's 2016 Mother's Day recipe contest: The winning recipe is Charred Grapefruit and Shrimp Toast with Candied Jalapeños
It was an extremely close competition and while only one Grand Prize Winner could be selected, there are 2 finalist recipes that also left quite a mark on our guests' taste buds and also deserve recognition for their outstanding recipes:
The 2 finalists' recipes are:
Main Dish Category: Vietnamese Citrus Chicken Divan Stir-Fry, submitted by Brenda Watts, Gaffney, SC
Dessert Category: Ciambella Amaretto Citrus Coffee Cake submitted by Lorraine Stevenski, Land O Lakes, FL
In order to be eligible for the competition, non-professional chefs and bakers were asked to share their favorite original family recipe and then get creative by adding a citrus ingredient to give it a unique citrus twist. Entrants were also asked to share a special memory or family tradition associated with their recipe. The Resorts' Executive Chef, Kurtis Jantz, and his culinary team scoured through volumes of recipes received and selected the top three as finalists. These recipes were featured at our Annual Mother's Day brunch, where attendees voted on their favorite recipe based on taste, creativity and visual appeal.
Thank you to everyone who submitted recipes and participated in this years' contest!
Here's Veronica Callaghan's Winning Charred Grapefruit and Shrimp Avocado Toasts with Candied Jalapeños recipe to try at home. When asked about a special family memory for her winning recipe, Veronica had this sentiment to share: "Back in the early 80s my mother would love to entertain. Her go-to appetizer recipe was for some kind of shrimp toast. I remember her recipe had an Asian fried flair, but I changed it up to have a more contemporary, citrus-fresh twist."
Charred Grapefruit and Shrimp Avocado Toasts with Candied Jalapeños
Ingredients:
12 slices Italian or ciabatta bread cooking spray (olive oil)
Salt
Pepper
2 large grapefruits
1 tablespoon avocado oil (or olive oil)
24 medium sized shrimp, peeled, cleaned and tails removed
3 scallions, very thinly sliced (white and green parts)
1 tablespoon finely chopped fresh cilantro, plus additional whole leaves for garnish
1 avocado, cut into 24 thin slices
12 candied jalapeños (recipe follows)
Flaked sea salt
Directions:
Preheat oven to 400 degrees. Arrange the bread slices in a single layer on baking sheet. Spray both sides of each bread slice with cooking spray. Season with salt and pepper. Bake bread slices in oven until toasted and edges are golden brown. Remove the zest from one of the grapefruits and reserve. Using a sharp knife carefully peel away the skin and pith of the grapefruits and slice into fruit to release sections. Squeeze the juice from the remaining membranes into small bowl and reserve. Heat the oil over medium high heat in a 12 inch skillet until very hot. Add the grapefruit sections to the skillet and cook for a minute or until browned then carefully turn over and cook for a few more seconds. Remove the sections from the skillet and transfer to a plate. Add the reserved juice to the skillet and heat; stir in the shrimp and cook until opaque and cooked through. Stir the scallions and cilantro in with the shrimp. Arrange two slices of avocado on each toast. Top the avocado with 2 pieces of shrimp and 2 pieces of grapefruit, alternating. Garnish each with fresh cilantro leaves, the reserved grapefruit zest and a candied jalapeños then finish by sprinkling each with a pinch of the flaked sea salt. Makes 12 appetizers
Candied Jalapeños
Ingredients:
10 jalapeños, cut into 1/4 inch thick rings
1/2 cup sugar, plus additional for rolling
1/4 cup light corn syrup
Directions: Cut jalapeños into 12 slices. Mix together the sugar and the corn syrup in a skillet and bring to a boil over medium high heat. When it has boiled for about 4-5 minutes remove from the heat and stir in the jalapeños. Using a skewer, remove from the hot liquid and transfer to a parchment lined baking sheet. Bake peppers in a 350 degree oven for 10 minutes. Roll jalapeños in sugar while still hot then return to pan to cool.
Here are our 2 amazing Finalists Recipes:
Recipe: Vietnamese Citrus Chicken Divan Stir-Fry, Submitted by Brenda Watts, Gaffney, SC
Ingredients:
1 1/2 pounds boneless, skinless chicken breasts or thighs, cut into chunks,
2/3 cup plus 2 tablespoons cornstarch, divided
1/4 teaspoon ground red pepper
1/4 teaspoon kosher salt
1/8 teaspoon garlic powder
1 1/2 cup peanut oil, divided,(for frying chicken, vegetables. mixture & noodles)
6 tablespoons fresh mandarin orange juice, divided,(*my citrus twist addition)
2 egg whites, slightly beaten
4 to 5 baby carrots, thin julienne strip cuts
1 medium size sweet onion, julienne strip cuts
4 to 5 medium size sweet red peppers
1 1/2 cups fresh broccoli florets
1 teaspoon freshly grated ginger root
1/4 cup white wine
1 cup chicken stock
2 tablespoons szechuan soy sauce
2 tablespoons heavy cream
1 tablespoons freshly grated mandarin peel,(*my citrus twist addition)
1 tablespoon granulated sugar
1/2 cup slivered almonds
8 ounces vermicelli rice noodles
3 tablespoons unsalted butter, melted
12 fresh mandarin orange half-moon slices, for optional garnish
Directions: Create a work station near wok or skillet with high sides. Place on work station counter cleaned dried chicken chunks on a large plate. In a small shallow bowl, mix 2/3 cup cornstarch, ground red pepper, salt and garlic powder together until combined and place alongside chicken plate. In an additional small bowl, whisk 1 tablespoon peanut oil, 2 tablespoons orange juice and 2 egg whites together until blended and frothy and place alongside seasoned cornstarch bowl. Line a large cutting board or platter with wax paper and place on work station counter closest to wok or skillet. Preparing chicken chucks in batches, first coat chicken in liquid egg white mixture to moisten, then dredge chicken in cornstarch mixture and toss until coated well and place prepared chicken onto the lined cutting board or platter. Continue chicken process until all chicken chunks is prepared. Heat 1/2 cup peanut oil in a wok or skillet with high sides to medium-high, (350 degrees F.). Place a large platter or plate that has been lined with several sheets of paper towels near wok or skillet. Cook prepared chicken chucks in batches in heated peanut oil and fry until lightly golden brown. Add additional 3/4 cup peanut oil when needed, 1/4 cup at a time, to continue frying chicken chuck batches are completed. Place completed cooked chicken chucks onto paper towel lined platter or plate to drain excess oil. When wok or skillet has cooled completely, wipe clean with several sheets of paper towels. Heat 2 tablespoons peanut oil to medium heat level, (325 degrees F.) Add carrots, onions, red peppers, broccoli, ginger and white wine and cook 2 to 4 minutes, or until vegetables are tender and wine has reduced. In a small bowl, whisk remaining 2 tablespoons cornstarch and chicken stock together until blended. Add cornstarch chicken mixture, remaining 1/4 cup orange juice, soy sauce, heavy cream, grated orange peel and sugar to vegetables and cook an additional 1 1/2 to 2 minutes, or until liquids have thickened slightly. Remove wok or skillet from heat and add in prepared chicken chucks in with vegetables and sauce and toss to combine, let stir-fry cool slightly for 5 minutes or until rested and set. Spoon Vietnamese Citrus Chicken Divan Stir Fry over onto a large serving platter and sprinkle over top with slivered almonds. Meanwhile, prepare rice noodles. In a stock pot or large 5-qt. Dutch oven that has been filled with lightly salted water bring to a rapid boil. Add rice noodles and cook according to package directions, or until noodle are al dente. Drain noodles in cold water. Place cooked noodles in a large serving bowl and toss in remaining 1 tablespoon peanut oil and melted butter until noodles are lightly coated. Serve and enjoy Vietnamese Citrus Chicken Divan alongside cooked buttered rice noodles. Place a couple half-moon orange slices each on individual servings for optional garnish.
Prep Time: 25 Minutes Cook Time: 15 Minutes Servings: 6 Servings
Special Memory/Family Tradition: "When my dad returned home safe from World War 2, my grandma made him a celebration chicken divan recipe dinner. My dad then shortly after married my mom and within 3 years' time, my brother and I joined the happy family. That chicken divan grew to become our favorite dinner and has been changed through the years with our favorite Asian favorite. My recent mandarin flavors addition is still our top favorite and we hope soon to be yours, with great thanks to my beloved grandma and mom and now me and my daughter." – Brenda Watts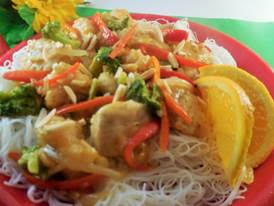 Recipe: Ciambella Amaretto Citrus Coffee Cake, submitted by Lorraine Stevenski, Land O Lakes, FL
Ingredients:
1 Cup Raisins
1/4 Cup Amaretto
Batter:
2 Cups All-purpose Flour, plus more for the pan
3/4 Cup Sugar
1 tablespoon Baking Powder
1/2 Cup Melted Butter, 1 stick
1/2 cup 2% Low-fat Milk
2 large Eggs 1 large Egg Yolk (reserve the white for the topping)
1 large Lemon, juice and zest,
1 large Orange, juice and zest,
1 teaspoon Vanilla Extract
1/2 Teaspoon Almond extract
Topping:
1/4 Cup Sliced Almonds
2 Tablespoons Egg White
1/4 cup Sugar
1 Teaspoon Lemon Zest,
Icing:
1/2 Cup Confectioner's Sugar
2 Tablespoons Amaretto
Directions: 1. Coat a non-stick 10" tube pan with cooking spray. Dust with flour and then tap out any excess. 2. In a medium mixing bowl toss the raisins with the Amaretto. Let the flavors meld for about 30 minutes. 3. MAKE THE CAKE: Preheat the oven to 375 degrees. In a large mixing bowl, sift together the flour, sugar and baking powder. In another large mixing bowl, whisk together the melted butter, milk, eggs, egg yolk, lemon and orange zest and juice and vanilla and almond extracts. Drain the raisins (set aside) and whisk the excess Amaretto mixture into the butter mixture. 4. With a rubber spatula, add the butter mixture to the flour mixture and stir until all the ingredients are well blended. The batter will be thick. Gently fold the reserved raisins into the batter. Spoon the batter evenly into the tube pan. 5. MAKE THE TOPPING: In a small bowl, mix the almonds, egg white, sugar and lemon zest until evenly combined. Spread evenly over the top of the batter. Bake the cake until golden brown, about 20-30 minutes, or until a tester comes out clean. Do not over bake. Let the cake cool 15 minutes before removing from the pan. Cool completely before icing. 6. MAKE THE ICING: In a small saucepan add the confectioner's sugar and Amaretto. Whisk until smooth and pourable; about 1 minute. Add a few drops of water if too thick. Immediately drizzle over the top of the cake using swirl motions. The icing hardens almost immediately so work quickly. Serve immediately. Serves about 16 people 45 minutes prep time. 30 minutes bake time, 1 hour cool time.
Special Memory/Family Tradition: "Ciambella is traditionally a large "ring" shaped cake served at Easter. Ciambella is served throughout Italy anytime coffee is served. My Grandma's version is a huge 15" cake baked on a pizza pan with a hole in the middle. We loved to dunk each cake slice into creamy hot coffee and let each bite melt in our mouth. I have updated and lightened up my Grandma's recipe to a smaller cake made in a simple tube pan. I also added my TWIST with fresh citrus flavors with a hint of Amaretto infused in the raisins. The topping is nice and crunchy with the addition of almonds in the egg whites. Serve this refreshing light cake with sliced strawberries and Amaretto whipped cream."- Lorraine Stevenski
As the Grand Prize Winner, Veronica Callaghan will receive prizes including:
Complimentary Three night stay for 2 guests, 2 Bedroom Oceanfront Suite at Trump International Beach Resort
Daily breakfast for two in Neomi's Grill
Two, Fifty minute spa treatments (one treatment per person)
Up to $600.00 Travel credit
Our Finalists will receive:
One Omega J8006 Nutrition Center Juicer
One Embroidered Trump International Beach Resort Culinary Apron
One Signature Chef recipe from Executive Chef Kurtis Jantz
Read other posts